We have large expansive areas that all our children are able explore the outdoors, in a safe and secure environment. Our areas are divided so that the children have their own garden which is equipped and tailored to meet their age group.
To compliment this we also have further areas where the children can explore and develop their natural curiosity and experience plenty of awe and wonder!
All children benefit from plenty of fresh air and exercise on a daily basis.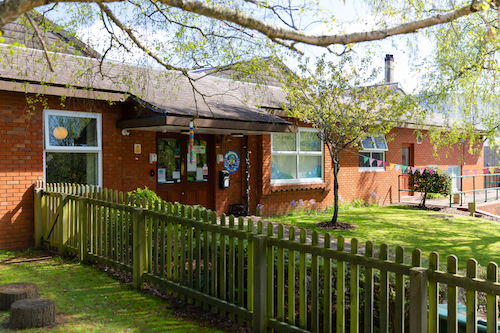 In the vegetable garden, we explore through digging, learning about growth from planting seeds and bulbs, watching life grow and then how we use what we have produced in our food. Controlling different tools like water cans and spades etc, too the handling of the large fork when they are four.
In the Nature Garden we give them natural materials to create bug/hedgehog houses and feed the wildlife. Encouraging the use of binoculars and other equipment the children look for bugs and other wildlife, picking flowers and making their own pictures of what they find. With the older children we cook outside on open fires, teaching the dangers of heat when cooking, and tasting the food.
In the Mini Woodlands the children spend time mimicking adults from making herb soup in the kitchen, to cutting plants and vegetables to create their own mud pies and stews. In the construction area we dig using mud and sand, creating walls and other structures, using bricks and other materials recycled from other places. I spend time helping the 4-year-olds to hammer nails into wood and use other adult equipment safely.
In arts and crafts, they create outside decorations from painting stones/tyres etc., to weaving, threading, using different materials. Using recycled materials from bottle tops to natural materials like conkers and twigs, helping build their own imagination. This helps develop children's interest in understanding world and supports us as a setting to be more eco minded.