Open Day Saturday 20th January 2024 - Visit Us!
Welcome to Woodlands day Nursery
We are a privately owned nursery, with ample parking, conveniently situated on Greenham Business Park on the A339 between Kingsclere & Newbury.

We care for children from homes throughout Berkshire including Thatcham, Greenham, Newbury, Kingsclere, Reading and many more.

We care for children from babies to 5 years and offer both full time and part time places.

At Woodlands there is lots of space for your child to play, learn and have lots of fun, both inside and out.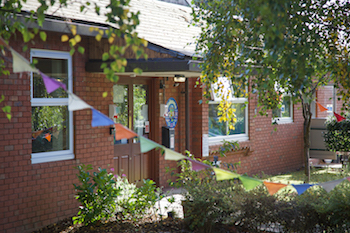 Top reasons why our parents choose us:
As an independent nursery we can respond quickly to individual needs and situations
Our well-equipped large nursery rooms, all at ground floor level, provide a safe space to have fun and learn
Each nursery room has its own garden/play area giving your child every opportunity to enjoy fun outside
The nursery has a biometric entry system, fingerprint not recognised, no access
We have a popular Gardening/Craft club which runs throughout the year
Home-cooked delicious meals prepared in our nursery kitchen – morning snack, lunch & tea
No hidden costs – our fee structure is as simple as possible
Nursery Education Grant funding is available for children following their third birthday
Sliding discount available for parents who work on Greenham Business Park and the NHS.
Open Day Saturday 20th January 2024 - Visit Us!
Why not come and visit our wonderful, happy nursery & pre-school and see for yourself just what we have to offer and to meet 'Tiny' our resident turtle.
Ofsted Report
"Children's personal, social and emotional development are supported well. Children form strong trusting relationships with the staff and clearly enjoy their warm interactions. Staff are gentle and kind. Children are confident in turning to them for help and support, if needed."
Click here to read our Ofsted Report
GDPR
As you may have heard the new EU-wide data regulations (GDPR) came into force on 25 May 2018. To ensure Woodlands Day Nursery complies with these, we have made some changes to our Privacy Policy for parents/carers, children and employees
These include:
Personal information we collect about you
How we collect and use that personal information
Your rights relating to your personal information
Details of who you can contact to manage your personal information
There is nothing that you need to do, we just wanted to let you know, as your trust is important to us.